Testimonials from Physicians
"NO SURGERY!"  That's what I said to myself almost two years ago.  It was the middle of Spring 2007 and I was advised that I needed a hip implant after seeking consultation with an orthopedist.  Pain became a common part of my daily life.  What options did I have?
By sheer luck, while at a Barnes and Noble store somewhere in the Midwest, I happened to have been walking in the health section and noticed several books on pain treatment.  One book in particular caught my attention…Pain Free, by Peter Egoscue.
As a Podiatric Physician and surgeon, in practice for many years in the Bay Area of San Francisco, I recognize the effects of joint destruction such as wear and tear and overuse that often occurs with age or trauma.  The end result is usually pain, caused by bone on bone contact and wearing down of joint cartilage.  It's not uncommon then to understand that pain becomes the symptom that influences the way we function both physically and psychologically.
After reading Pain Free, I thought this might be something to pursue as an alternative to surgery, even though my orthopedist said I would be back to have that hip implant.  Now, two years later, I am significantly better!  After following a treatment plan created by the team at Pain Free Performance, who utilize the Egoscue method, I am able to sleep without pain, walk and do my daily activities with minimal or no discomfort.  Most importantly, I don't regularly take any of those anti-inflammatory medications which were only temporary relief.  In my experience, it is apparent that surgery doesn't always have to be the first alternative.
OK, so what is the Egoscue method?  It is a methodology that evaluates the entire body biomechanics and, through gravity assisted exercise, rebalances the muscles to provide proper function thus reducing stress and wear and tear on the joints.  Does it work? Reduce pain?  Increase function and motion?  Simply, YES!
Thank You Pain Free Performance!
—Mark G. Drusin, DPM
---
"I cannot say a bigger thank you to everyone at Pain Free Performance. As a client and a referring physician, I can honestly say they make a big difference in people's lives. They are professional and invested in the care of their patients. They perform thorough evaluations and devise treatment plans tailored to one's specific needs. I can personally say they have made a big difference in my sacroiliac joint pain.  I can now spend days seeing patients without suffering. I have referred many patients to Pain Free Performance because I know firsthand that they will be well taken care of. Egoscue is an integral component to treating chronic pain and there is no better place I can think of that would take better care of our patients!"
—Lynn Kohan MD
---
"After seeing what Pain Free Performance did for my wife in alleviating her shin splints when running, I decided to visit Cindy to treat the tension headaches I was having daily from work. As a dentist, sitting in difficult position to work on patients all day took it's toll on my posture resulting in slumped shoulders, twisted hips and the aches and pains that are associated with carrying your body like that. About 6 weeks after starting with Cindy, my posture was nearly perfectly balanced, my headaches went from daily to once or twice a month, and I had a much clearer sense of my body's posture and how to correct it when it was out of alignment. I have since referred multiple patients to Pain Free Performance for issues with muscular jaw pain and clenching/grinding habits. Even my own parents have become patients and found significant relief from their arthritic issues. The regimens that Pain Free provides are easy to accomplish and can fit into a busy daily routine. I'm thrilled to have worked with Cindy personally and to have such a resource for my patients."
—Nick Minutella, DDS
---
"I have been a client of Cindy Meyers at Pain Free Performance for many years. Cindy has helped keep me in good shape, limiting progression of spinal curvature, keeping my arthritic knees functioning well, and limiting episodes of back and neck strain—previously common, now rare.
I especially appreciate the Egoscue therapy because it addresses the structural cause of musculoskeletal problems, rather than just relieving symptoms. It is self empowering because while you receive guidance and feedback, you do most of the work yourself. So it requires many fewer visits and less expense than treatment modalities involving frequent visits with a practitioner.
I have referred many people to Pain Free Performance over the years, and most of them have received great benefit. I appreciate Cindy's expertise and kind, effective manner in caring for my patients. A number of them, headed for knee or hip replacement found that the Egoscue practice allowed them to relieve symptoms, function well and avoid planned surgery."
—Martin Albert MD
---
DR. GELBURD DISCOVERS PAIN FREE PERFORMANCE!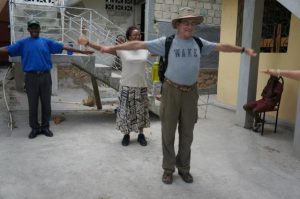 It's an early morning in Haiti and I'm doing an airbench before clinic. My eyes are closed and I'm concentrating on Cindy Meyers' words: "push down on your heels and push your lower back into the wall and hold for two minutes". I look like a man sitting in a chair without the chair under me. This is a small pause before my very busy medical clinic begins.
How did I come to airbenches in Haiti, doing these and other postures described in "Pain Free" by Pete Egoscue to help resolve issues in my foot, my lower back and my shoulder? I've written this little story to describe to you how postural therapy has rescued me and why I believe many others in Charlottesville would benefit from some time spent with the people at Pain Free Performance where they treat pain with postural alignment.
Seven months ago, I was faced with several muscular skeletal problems that were not going away, the result of one bike collision with a car, 45 years of running with the wrong stride and a slowly aging 60 year old body. My pain was so severe a year ago I hiked down a Glacier National Park mountain backwards for two miles because I couldn't come down on my right heel, it felt like a knife jabbing my foot! The bears thought I was just wacky but at least they stayed away. I sought out help from Cindy Meyers (and staff) at Pain Free Performance. In February I saw Cindy for an evaluation and she photographed my body from several angles against a grid background. She showed me where my shoulders and hip bones were off balance, and then how my head was too far forward on my neck and how my gut was not so much full of extra hamburgers as I thought, but it protruded a little because of the lack of curvature in my middle back. She watched me walk and perform some stretches and positions so she could evaluate the way my body moves and from that she gave me a specific regimen to begin to re-balance my body.
Cindy and the staff at Pain Free Performance are Postural Alignment Specialists certified by Egoscue University. Developed over forty years ago by anatomical functionalist Pete Egoscue, this postural alignment therapy focuses on realigning the entire body. So even though my heels were giving me fits, the fact that my head, shoulders and hips were off kilter is what was causing the overall dysfunction and pain in my feet.
Every two weeks I have spent an hour with Cindy and staff for re-evaluation and a new program prescription as my body changes. I spend about 15-20 minutes each day performing these simple but deeply effective isometric postures, strengthening and balancing my skeleton and muscles. The results are amazing! Who knew? Even a vegan diet couldn't get rid of my gut, but not only is that disappearing but my heel pain is pretty much gone! I'm back to running after a two year hiatus and my foot strike is now mid foot not heel. I've even gained an extra half inch back in my height with my spine better supported!
Now my family, office staff and Haitian friends are accustomed to my airbenches, cat-dog postures and standing shoulder shrugs. I am continuing to make these postures a part of my routine before my work day, before running and other workouts. This is an incredible team of caring and gifted health workers. Their skills and their motivation will keep you going in the right direction until you are as healed as you want to be.
Dr. Greg Gelburd
---