Many of us assume that as we age, there will be a certain amount of pain to endure. We think arthritis is a sure thing.  Or, is it?  And if so, is age really the only culprit?
First of all, what is arthritis?     It means "Inflammation, etiology unknown".  Where does the inflammation come from?  There is the implied theory that we've just worn out our joints because we've lived so long!  If that were true, then everyone over a certain age would have arthritis or worn joints.  We know that knee pain, shoulder pain, hip pain, back pain comes from wear and tear.
Well, most often patients present with one side or the other hurting –I hear it all the time "thank goodness my other knee feels great!" This phenomenon alone debunks the theory that time on earth is dictating joint wear and pain.  While joint compression from age can be a factor would we really only have knee pain, shoulder pain, hip pain, and back pain on one side if pain was caused just by longevity?  No, both sides would have arthritis pain.
As Posture Alignment Specialists certified by Egoscue University, we evaluate bodies in pain all day every day– young and old, all sizes, shapes, injuries, surgeries, abilities and disabilities and condition levels. Most people come to us because they want pain relief – with knee pain, shoulder pain, hip pain, back pain, and ankle pain.  The simple and amazing thing is that they all have the same problem – their bodies are not properly aligned.  What your body needs is not youth but alignment… the way it was intended.  The earlier one understands the importance of alignment, the less arthritis has a chance!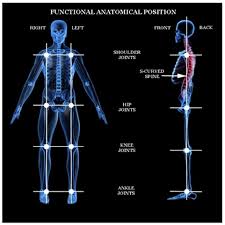 Notice the alignment showing the ankles, knees, hips, and shoulders vertically and horizontally aligned, the pelvis is neutral, the spine has an s-curve, and the knees and feet point straight ahead. When this isn't what is happening in our bodies – for whatever reason (accident, surgery, work posture) – some muscles begin doing too much and some not enough.  That is when bones are pulled out of alignment because of the compensation and then joints begin to wear unevenly.  This is true no matter what your age, however, the more years it goes uncorrected the more work one must do to unravel the compensations.
We need alignment so that our joints are properly "loaded" while we participate in as much weight bearing movement as we can handle, keep our range of motion in all joints full and active!  It's not age, its alignment.  No matter what your age, we can help you retrain your body to be straighter and more functional without all the pain!